THIS PAGE IS CURRENTLY BEING REFRESHED TO PROVIDE A BETTER EXPERIENCE FOR OUR PATIENTS
How to access GP online services
Using SystmOnline Patient Access
Just over 4,300 of our patients now actively use SystmOnline to access our services. If more patients used digital services, Practice resources could be allocated to support improvements to other aspects of care services, including a better experience for patients – particularly those who still need to visit or use the phone.
Using a SystmOnline Patient Access account you can:
order repeat prescriptions quickly and easily
book routine GP telephone appointments
view your patient record and see test results
update your contact details
send secure messages to the Practice
Using Apps for Mobile Devices
You can download and sign up to use the NHS App to do the same – just in a different way.
If you have not already done so and want to sign up to access online services, please email cranborne.reception@dorsetgp.nhs.uk with a photo or scan of your ID (driving license preferably as it has address) and we will email back the log in details.

Parents or an adult with parental responsibility can obtain their child's username and password so that they can order repeat prescriptions on behalf of the child concerned. However, from the age of 16 years old an individual is deemed to be a "young adult" and will be able to obtain their own username and password. This is to enable a young adult to choose if they want to consult a doctor independently and confidentially.
Another online resource is eConsult. This option allows you to:
request a sick note from your GP
request health reviews (Asthma, COPD, Diabetes etc.)
request medication review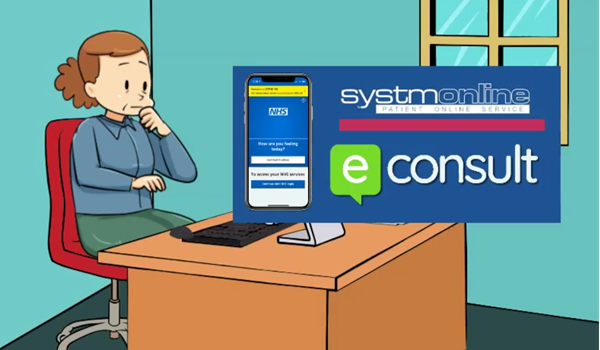 Mary has been a patient of The Cranborne Practice for 17 years.
Mary has very limited mobility and cannot walk after an accident. She finds online resources a real bonus and has always found that there is help on hand.
View this YouTube video, where she explains why taking advantage of online options to access help for health needs is so important.
Need help getting access to Online services?
Do you or someone you know need in person help to get online?
If you or someone you know could benefit from learning more about how to get online, a Digital Champion can help.
Your local Digital Champion offers FREE Digital Learning sessions by appointment on Friday mornings between 10.30 am and 12.30 pm at Verwood Library.